Breeding Philosophy & History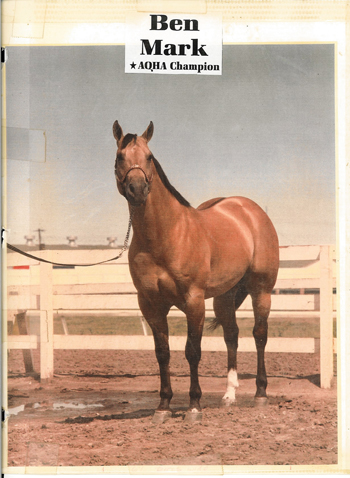 The Ben Mark line of horses are of the highest quality in their feet and legs, shoulder and pelvis angles. They have strong muscles, excellent heads, "Kitten Gentle" dispositions, are easy to train while being exceptionally versatile and athletic. When breeding and showing trends began to change in the early to mid 1970's, we decided to remain committed to our ideals and goals and not follow any of the current day fads.
  By design we have tried to create better horses that last longer with each successive generation that we produce. We have been extremely selective in the quality and their bloodlines. Of the individual horses, one of the biggest fads in cow horses is Doc Bar. We have only one mare with a smidgen of this blood that we have purchased to specifically show how it would cross with our Ben Mark son, Leavin My Mark.
  Again, our intention is to use our high quality foundation-bred horses to raise superb individuals offered to the public at a reasonable price-that can go out and compete with anyone, anywhere. As breeding individuals, their owners have the option to cross them with 99% of the advertised horses being promoted today. We are producing unique, almost one of a kind, individual horses. This can and should create additional demand for their offspring.
History...
Dr. Buller was a kid when he got his first horse late in 1960. She was a 1959 Sorrel Mare named Miss Bar Three. She was sired by Bar Three by Three Bars, and was out of Reve Hancock by Roan Hancock.
  He had to share this horse with his brother, Larry, which was difficult when they went to 4-H Horse shows. Their father started breeding the mare as a 3 year old, which made showing her with a foal even more difficult. However, the stallions she was bred to became much more well known as time passed. Those stallions were, War Leo, War Bond Leo, Flying San, Jessie James Leo, and War Dream. Basically, this created a Three Bars-Leo cross which usually worked very well. Being from a strong mare line, Miss Bar Three did produce some excellent foals. Her first by War Leo was a sorrel stallion named Buller Bar Leo. He is the Maternal Grand Sire of Joe Jack Honey bar and a number of other really good horses at the Pitzer Ranch in Ericson, Nebraska. The second foal by War leo, she was a filly named Miss Barby Leo. She became an outstanding barrel racing and pole bending horse on the gymkhana circuit in Nebraska in the 1960's and early1970's. Larry Buller and his home raised mare were rarely beaten, even when matched against the professional horses from the G.R.A..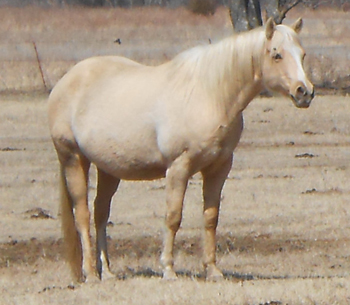 Each foal produced by Miss Bar Three had their own place and purpose, but the last one was probably the most important in our future plans. The little filly (nicknamed pickles) was later named Jessies Dream Bar. Her importance became more noticeable later on, when she was bred to Ben Mark.
  Ben Mark came into our lives in 1977 when Dr. Bruce Buller purchased him from Clarence Markus of Keamey, Nebraska.
  Ben Mark was a beautiful Dun Stallion of exceptional conformation and disposition. He was bred by Waggoner Ranch of Vermon, Texas. Mr. Markus purchased his dam, Pretty Lady X2 from the Waggoners as a 3-in-1 package. She had a foal at her side by Poco Bueno and was bred back to Poco Feed for a 1968 foal. This produced Ben Mark, probably one of the very best horses to come off the Waggoner Ranch.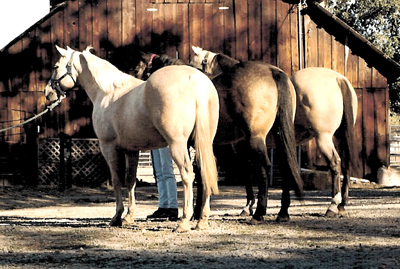 Ben Mark was an excellent sire. He had a strong mare line through his dam, who was sired by Pretty Boy. She produced excellent foals by Poco Bueno and an exceptional one by Nifty Pep named Lady Charcoal. Lady Charcoal produced a dun mare named Aledo Bars lady who was the 1963 AQHA High Point Halter Horse in the nation while winning in reining and cutting as well. Lady Charcoal also produced a palomino stallion, Skoshi Bit, that was a AQHA Champion sired by Counterplay.
  Ben Mark's foals were very athletic and versatile. They are willing and able to do most any type of event(s) that you want to do. As Ben Mark got older, we realized that his mares were exceptional and that it would be prudent to keep a small number of quality mares by him. We raised 6 mares to keep, two of these mares are out of Jessies Dream Bar (the last foal out of our original mare) and our wonderful dun stallion, Leavin My Mark, is also out of this same mare.

Dr. Bruce & Katherine Buller
8800 S. 4230 Rd.
Chelsea, OK 74016
(918) 789-3423
© leavinmymarkqhfarm.com, Website designed by Jessica Mather Marketing